Inside The Actors Studio, Where are the black legends?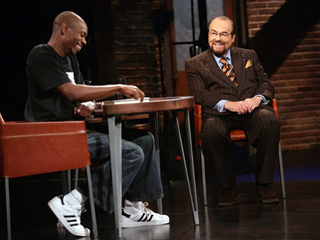 After watching a riveting performance by James Earl Jones on an episode of Law and Order SVU, I wondered, had James Earl Jones ever been on Inside the Actors Studio. Had James Earl Jones ever sat on the coveted couch? As I navigate my acting career, watching Inside the Actors Studio is a MUST! A couple of years ago I would spend hours watching available episodes on YouTube, and making sure to catch the current seasons on Bravo. You know hearing the journey of some of my favorite actors keeps me inspired, humble, and hungry for my "Big Break". Dreaming of someday having a similar, intimate conversation with host James Lipton; hopefully inspiring someone else to reach for the stars.
Soooo I googled.
SURPRISE!!! James Earl Jones has NOT been on Inside the Actors Studio. How the hell does that happen? The voice of Mufasa AND Darth Vader has never been on this show. Seriously, James Earl Jones career spans over 50 years and includes numerous awards including an Honorary Oscar. Of course discovering this made me frustrated, so I looked through all the seasons of Inside the Actors Studio and saw they've been missing the mark on educating generations of aspiring actors and film-makers since 1994.
I came up with my own list of actors and film-makers of color that I feel are more than deserving of time on that stage.
For instance:
Diahann Carroll
Ruby Dee

James Earl Jones 

Cicely Tyson
Billy Dee Williams
Phylicia Rashād
Debbie Allen
Stan Lathan
Della Reese
Melvin Van Peebles
Angela Bassett
Jefferey Wright
Damon Wayans
Honorable mention the late: Sherman Hemsley and Richard Pryor
The casts of Good Times, The Fresh Prince of Bel Air, Martin, A Different World, In Living Color
Honestly, this could be the list that never ends. But the only way to really start moving Hollywood forward would be to start at the root - education.
Don't get me wrong, Inside the Actors Studio has had legendary African-American entertainers on the show. Such as Eddie Murphy who spoke candidly about his relationship and the work of both Redd Foxx and Richard Pryor. Of course other black folk have been on the show: Spike Lee, Denzel Washington, Samuel L. Jackson, Will Smith, Jamie Foxx, Halle Berry, and hell – even Jennifer Lopez's been on the show twice. But it wasn't until Season 4 in 1998 that any African Americans showed up at all. Don't believe me, here's a list of guest. Lets not even discuss the sad amount, or lack thereof of African-American female actors that have been featured.
I don't know, perhaps Inside the Actors Studio just doesn't value the experience, education, and careers of the above artists. Maybe they just don't feel their contribution to cinema and theatre is relevant to their students -- as the show is taped and apart of the curriculum at Pace University, not to mention the vast Bravo TV audience available to them. Lord knows all the colored folk watching shows over there, myself included. Or just maybe those listed above are just not requested by the students, probably because they aren't being exposed to their work. #insertsideeye
But shucks... what the hell do I know? I don't know what the curriculum is, nor do I know for sure what people want to watch. I'm just an actress with a blog. Dreaming of some day sitting on that stage with ole Jimmy my damn self. Hopefully this blog doesn't ruin my chances. However, should I make it to that stage, please have a plate of cookies waiting for me like the ones you gave Barbara Streisand when she inquired of food for her 2 hour special, because as you know...